Fashionable Face Masks Are The Accessory Of The Future, Say Israeli Designers
Israelis are now required to wear face masks outdoors in a mandatory directive issued by the Health Ministry that went into effect this week. The Health Ministry has said that these masks can be store-bought, homemade, or makeshift but that they must cover the nose and mouth.
Officials have recommended against buying traditional N95 or surgical masks, mainly because they want to leave them for the health care workers. In recent weeks, Israel has faced a shortage of personal protective equipment, including masks, for medical workers though that has changed in recent weeks due to shipments from China, and deliveries coordinated by the Mossad, Israel's national intelligence agency.
Meanwhile, fashion designers, artists, seamstresses, and textile industry workers are suddenly finding themselves out of work, like 25 percent of Israeli population currently jobless. Besides not being able to open their businesses, general spending on non-essential items such as clothes, art, and jewelry has been affected. Many in the industry have felt compelled to help the best way they know-how.
While there's been no official call in Israel on the apparel industry to make face masks, unlike in New York, many of these fashion and fabric experts have started their own initiatives to make them — using patterned cloths, unique patchwork, and fun-loving designs.
Tel Aviv-based fashion entrepreneur Dana Kira and restauranteur Alon Levi saw both of their businesses come to a grinding halt when lockdown measures were put in place last month amid the coronavirus outbreak. They were both looking for what to do next when, separately, they contacted a mutual Batel Bar Giora, a fashion designer with Israeli brand Feige. She made the connection between the two after realizing they had the same idea — to create handcrafted face masks from reusable cloth.
The idea behind their product is to make colorful and quality cloth masks that can be reused, in order to minimize waste, and give people an alternative to disposable masks, which are necessary for health care workers, Alon Levi writes in an email to NoCamels.
Kira contacted fellow designers in Tel Aviv, such as Amit Shalom from Israeli brand BoBo who donated leftover materials from their businesses. This gave the duo a supply of fun, colorful and unique designs. All masks are sewn locally.
"It is very important for us to make our masks accessible so anyone can afford them," explains Levi. The masks are sold at two apiece for NIS 68 ($19). A range of masks is found on the brand's Instagram page. Free delivery is available anywhere in Israel.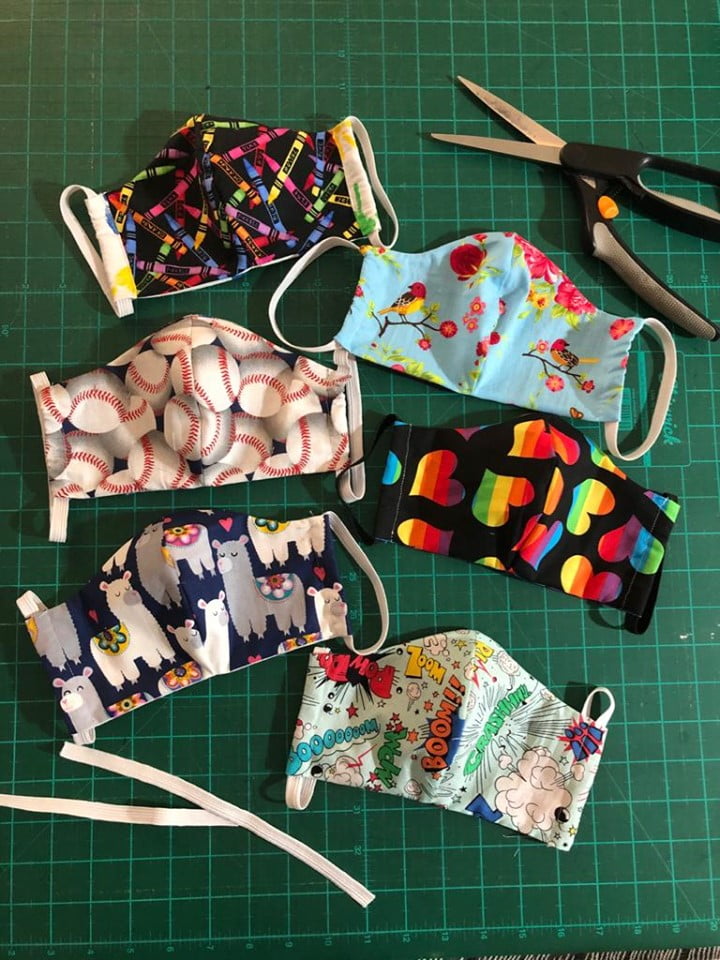 They aren't the only ones who found themselves looking to fill a void. Ruth Lenk, a Netanya-based quilter and art teacher started a Facebook page in November to sell her quilts. Sewing masks only followed when she created masks for family members to follow the Health Ministry's directive.
Lenk tells NoCamels she was encouraged by those family members to start selling those masks on her page, The Creative Adult, and decided to launch an initiative to donate a mask to a hospital worker every time she sold one. She says she is also looking to donate masks to elderly care facilities and programs for at-risk kids. Lenk sends photos of options to customers who choose what they like and says she has been overwhelmed by the interest she has received.
Yarden Oz, a 28-year old wedding and evening dress designer who has designed bridal gowns for some 400 women, found herself without work when Israeli wedding celebrations were limited to small numbers and then banned altogether. She decided to take the opportunity to design a collection of fashionable fabric masks that "will bring some color and joy to this era" and support the battered economy, she writes on the official website of her brand, Happy People. Her mask designs are also found on her Instagram page.
Some designers have even drawn inspiration from the Mediterranean Sea. Doraya Avital Kancepolsky, a graduate of the Bezalel Academy of Art of Design and Oryan Asher specialize in designing and manufacturing small collections of carefully hand-crafted products based on their lifestyle;
both designers live in neighboring boats on the Tel Aviv Marina. They named their brand, Fishi Fish.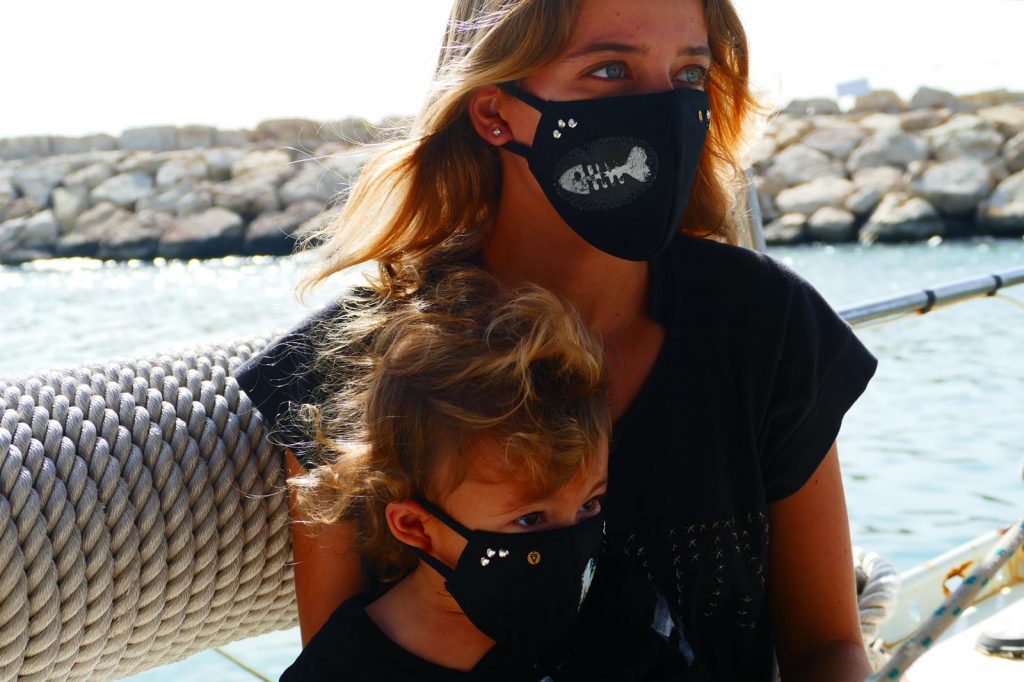 The pair came up with the idea to make masks some two weeks ago when health authorities announced it would be mandatory for people to wear them outdoors. Their masks are typically adorned with patches featuring handmade design elements such as fish skeletons or eyes. Customers can also order masks with no design.
"It all happened really fast," Kancepolsky tells NoCamels. "I spent all night sewing samples and by the next evening we had already put them up for sale."